Home
SPRING 2021 SCHEDULE
​The Museum is currently closed to visitors and will reopen May 2021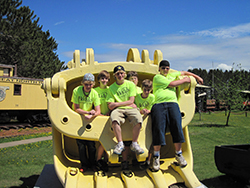 2021 Summer Season begins May 28, 2021. We look forward to seeing our guests climb aboard historic equipment used to mine the Mesabi Range's rich iron ore. Your experience will begin at the unique stone castle, completed in 1940. Browsing the small Museum Store may be restricted to small groups if COVID is still prevalent. Outside, tour the many displays spread across 13 acres of beautiful Museum grounds. Climb aboard mining trucks, steam shovel, or 1907 steam locomotive. Check out the underground mine replica, a mining town exhibit, the first bus, and the old fire engines!
Click Here for More information about the MN Museum of Mining
Support your local Museum! Memberships are available at the Individual ($10), Guest ($20), Family or Business ($25) levels. Contact the Museum for a membership form! ​
​Donate anytime at www.givemn.org
2020 Give to the Max Day was Nov. 19, 2020 but you may donate anytime!
---